On Saturday night, I found myself choked up by Ian McLagan's performance of "Glad and Sorry," a bittersweet number originally recorded by his former band The Faces. I've always found it an incredibly touching song, but as performed in tribute to its writer, the departed Ronnie Lane (whom McLagan spoke warmly of throughout the evening), it took on an additional heartbreaking layer of poignancy. The moment's weight was only slightly diminished when an older gentleman in dad jeans saw the song as reason to shake a tail feather like it was still 1973.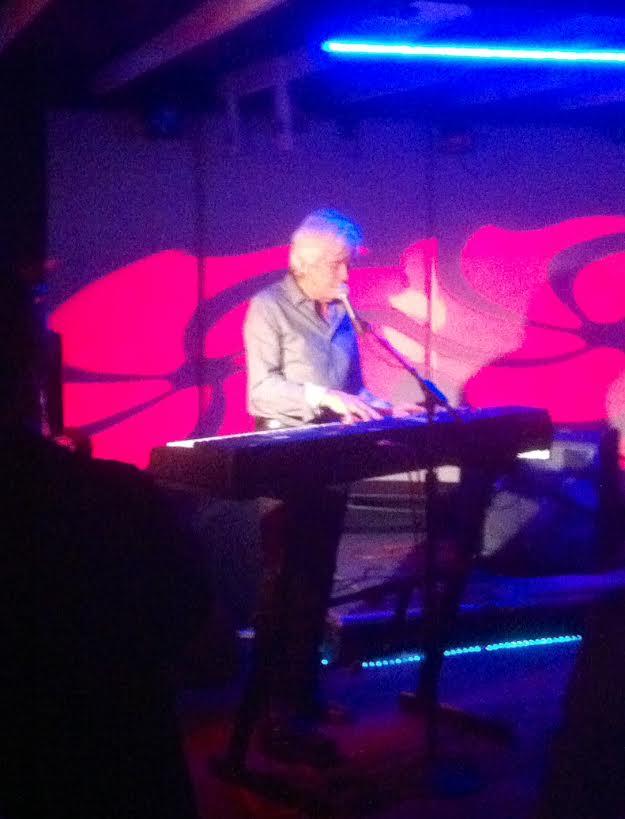 The Wormhole proved a fitting venue for McLagan. Honestly, I usually forget The Wormhole—a wonderfully divy midtown joint with black ceilings, vintage PBR and Bud Light pool lamps, a cordoned-off VIP section that looks like it might be the last remaining vestige of a time when the space was a dance club, and a delightful unwillingness to cover up the dozens of screeds found upon the men's room walls—is a potential watering hole. However, after seeing McLagan make that place his home for 90 minutes on Saturday, I plan on moseying over to The Wormhole much more frequently.

It makes sense that McLagan would feel comfortable in a place like The Wormhole. Despite playing in arenas and stadiums with The Faces and The Rolling Stones, songs like "Cindy Incidentally"—a Faces tune that he expertly trotted out on Saturday—were meant to be enjoyed in a pub, juke joint, or dive with a freshly-poured pint in hand.
The crowd was modest in size, but enthusiastic. As McLagan demonstrated he could still deliver the goods, and as he dipped deeper into his discography, those in attendance even grew a little rambunctious. A diverse age-range of men and women from disparate backgrounds collectively turned The Wormhole into an early rock & roll dancehall, unabashedly shimmying and shaking to McLagan's rollicking keyboard work.
For his part, McLagan appeared to relish the general atmosphere, which I found incredibly endearing. When Dad Jeans loudly mentioned (in jest?) that he had an 8-ball, McLagan earnestly chuckled. Better still, when a young man decided the edge of the stage right in front of the keyboard was the best place to sit and slip into a near-catatonic state, McLagan, the consummate professional, was utterly unfazed.
Even with the rowdy crowd, the songs sounded great. McLagan, accompanied by his Bump Band bassist Jon Notarthomas, hasn't lost a step in the ensuing years since he played with The Faces. Selections from this year's United States, such as "All I Wanna Do," "Shalalala," and "He's Not For You," sounded right at home alongside classic cuts like "Little Troublemaker," "Little Girl," "Hello Old Friend," "Never Say Never," and the aforementioned Faces songs.
Although McLagan and Notarthomas delivered an impassioned set, it was McLagan's between-song storytelling I enjoyed best. For example, he charmed the audience with a tale of him and Lane, both bedecked in the mod suits The Small Faces favored, retrieving his drunken uncle from a local pub.
Although Saturday was McLagan's first appearance in Savannah, hopefully it won't be his last. Maybe if the long-rumored Faces reunion comes to fruition in 2015—as he suggested it would in an interview with Savannah Now—he'll recommend they play a gig here in beautiful Savannah.